by Rohan Preston
May 16, 2009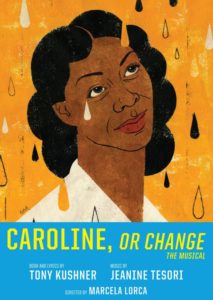 While Greta Oglesby is making the Guthrie Theater vibrate with her singing as the title character in Caroline, or Change, she is surrounded with commendable talent in Marcela Lorca's splendid staging of the Tony Kushner musical.
Powerhouses Jamecia Bennett, Aimee Bryant, Regina Williams and T. Mychael Rambo do bang-up jobs, as expected. But Nikki Renée Daniels is a discovery. In the role of Caroline's eldest daughter, Emmie, the New York-based actor pushes sunshine through some dark clouds.
Daniels, who understudied Fantine in the Broadway production of Les Misérables, delivers the 16-year-old girl's dreaming with fierce but well-mannered authority. When she sings, "Change come fast, and change come slow, but everything changes! And you got to go," it is with heartbreak for her mother's sacrifices and with hope for a bright future. Because of her verve and rising power, we believe.