by Michael Block
January 18, 2012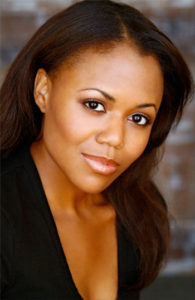 Name: Nikki Renee Daniels
Hometown: Atlanta, GA
Education: BFA in Musical Theater from the University of Cincinnati, College-Conservatory of Music (CCM)
Select Credits: Recent Broadway- Anything Goes; Promises, Promises; Les Miserables revival. Favorite Regional- Caroline or Change (Emmie, The Guthrie); Beauty and the Beast (Belle, North Shore Music Theater and American Musical Theater of San Jose); Ray Charles Live! (Della B, Pasadena Playhouse)
Why theater?: I've always loved singing, and I thought about going to school as a Classical Voice major, but I love singing in all kinds of different styles, and I've definitely been able to do that in the theater.
What is it like being a part of Porgy and Bess?: Being a part of this show is literally a dream come true. "Summertime" was one of the first songs that I learned when I started singing, so to be able to sing it every night on a Broadway stage is amazing. I have learned so much working with this talented cast, especially from watching Audra.
What kind of theater speaks to you? What or who inspires you as artists?: Basically I love anything that moves me. I like a wide variety of shows, but I love it when you can feel the emotion emanating from the stage. Shows like The Normal Heart and the Deaf West revival of Big River come to mind. I am inspired by the entire cast of The Gershwins' Porgy and Bess for sure! It is such an amazing assembly of talent, and I feel blessed to be up there with them every night.
Any roles you're dying to play?: There are a few roles that I wanted to play, but I am getting a little too old for them now. I would love for my next show to be something new that I can create from scratch.
What's your favorite showtune?: "Summertime"! I also love singing "Home" from The Wiz.
If you could work with anyone you've yet to work with, who would it be?: I would love to get to do a show with my husband, Jeff Kready :-)
Who would play you in a movie about yourself and what would it be called?: Kerry Washington would be a great choice because I actually get mistaken for her on the street sometimes! As for a title, I guess I'd say it could be called Lucky Gal.
What show have you recommended to your friends?: Other than The Gershwins' Porgy and Bess? I'd recommend Anything Goes or The Book of Mormon.
What's up next?: I am coming out with a solo CD very soon- I'm really excited about it. It's called Home because I sing two songs called "Home" on it. It will be available on iTunes and CD Baby.